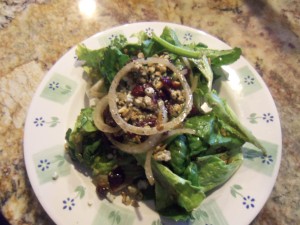 I am vacationing in a cabin in Colorado. Today I went to the grocery store to buy food. I decided to make grilled chicken on salad greens for dinner. I always make my own salad dressings, but opted to buy bottled dressing instead of buying all the necessary ingredients to make my own. I prefer an oil and vinegar dressing, so I bought a bottle of Balsamic Vinaigrette made with extra virgin olive oil. I can't believe that they bottle this stuff. The first ingredient listed was………….water, then vinegar, then olive oil, followed by soybean oil and corn oil!
I decided to share my favorite vinaigrette recipe that I got from the Creede Hotel in Creede, Colorado. It is really my favorite and is so easy to make. Just remember to always use good quality oil and vinegar.
Ingredients
1/2 cup Extra Virgin Olive Oil
1/4 cup Balsamic Vinegar
2 Tablespoons Fresh Lemon Juice (o.k., I do use bottled lemon juice sometimes)
1 Tablespoon Honey
1 Teaspoon Minced Fresh Garlic
Directions
Mix all ingredients and serve over fresh greens.
<