Nothing is better with a cup of coffee than biscotti. I have always been a bit afraid of making it. Not sure why, just thought it would be hard to make. I found a recipe on All Recipes and decided to try it. Not only is it delicious, but so easy to make. I revised the recipe and made mine almond flavored. Next I want to add cocoa and try chocolate and after that maybe orange flavoring and craisins. If you have been hesitant to make biscotti, try this recipe, you can't fail.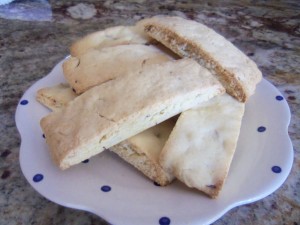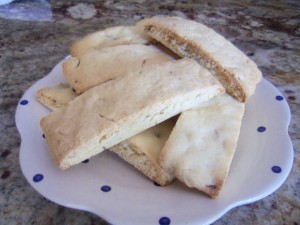 Ingredients
1/2 cup vegetable oil
1 cup white sugar
3 1/4 cups all-purpose flour
3 eggs
1 Tablespoon baking powder
1 Tablespoon almond flavoring
1 cup slivered almond (roasting adds flavor)
Directions
In a medium bowl beat the eggs, oil, sugar and almond flavoring. Combine the flour and baking powder. Stir the flour mixture into the egg mixture just until it forms a heavy dough. Do not overwork, it just needs to hold together. Divide the dough in half. Roll each piece into a log as long as the cookie sheet. Place it on a greased cookie sheet and then press down until it is about 1/2 inch thick. Square up the edges on much as possible. Repeat with the other half on another cookie sheet. Bake at 375 degrees for about 30 minutes or until golden brown. Remove from oven and when cool enough to handle use a pizza cutter and cut into 1/2 to 1 inch widths (as you can see from the picture I sliced mine a bit wider than the suggested 1/2″). Turn the slices on their side and return to oven for 8 minutes then remove from oven and turn on other side and bake another 8 minutes. Slices will be lightly toasted but still somewhat soft. Delicious!

Follow @NaniCranny