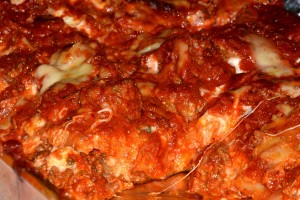 I think I got this recipe off the web, but have no idea who originally posted it. It is excellent. Although it takes a little time to put together, your family and friends will love you for it! It is my favorite recipe for lasagna.
Ingredients
1 lb sweet Italian sausage, cut into bite size pieces and casing removed. (Turkey sausage works well too.)
3/4 lb. lean ground beef
1/2 cup onion, chopped
2 cloves garlic, crushed
1 (28 ounce) can crushed tomatoes
1 (15 ounce) can tomato sauce
1 (12 ounce) can tomato paste
1/2 cup water
2 tbsp white sugar
1 1/2 tsp dried basil
1/2 tsp fennel seeds
1 tsp Italian seasonings
1 tsp salt (or to taste)
1/2 tsp black pepper
4 tbsp chopped fresh parsley
12 lasagna noodles, cooked
16 ounces ricotta cheese
1 egg, beaten
3/4 lb mozzarella cheese, sliced (fresh is best)
3/4 cup grated parmesan cheese
Directions
In a Dutch oven, cook sausage, ground beef, onion, and garlic over medium heat until browned.
Stir in crushed tomatoes,tomato paste, tomato sauce, and water.
Season with sugar, basil, fennel seeds, Italian seasoning, salt, pepper, 2 tbsp parsley.
Simmer covered for about 1 1/2 hours, stirring occasionally.
In a mixing bowl, combine ricotta cheese, egg, remaining parsley and a dash of salt.
Spread 1 1/2 cups meat sauce in bottom of 9×13 inch pan.
Arrange 1/2 of noodles lengthwise over meat sauce.
Spread with 1/2 of ricotta cheese mixture.
Top with 1/3 of mozzarella slices.
Spoon 1 1/2 cups meat sauce over mozzarella and sprinkle with 1/4 cup Parmesan cheese.
Repeat layers and top with remaining mozzarella and Parmesan.
Cover with foil that has been sprayed with cooking spray.
Bake @ 375 degrees for 25 minutes, remove foil and bake for 25 minutes more.
Cool for 10 minutes.