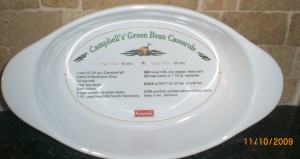 This is everyone's favorite recipe and a must serve at Thanksgiving at our house. No recipe collection would be complete without it. There are many variations, but I still like this original recipe the best. I have a cute story regarding this dish. One of my daughters has Tunisian relatives. She had house guests from Tunisia and served them green bean casserole. They raved over it and wanted to know the 'secret' for the wonderful sauce. Being the smart woman that she is, she just winked and said, "Oh, it is an old family recipe and my mother would kill me if I shared it".
Ingredients
1 can (10 3/4 ounces) Campbell's cream of mushroom soup
1/2 cup milk
1 teaspoon soy sauce
dash pepper
4 cups cooked cut green beans
1 1 /3 cup French's French fried onions
Directions
Mix soup, milk, soy sauce, pepper, beans and 2/3 cup onions in 1 1/2 quart casserole. Bake at 350 degrees for 25 minutes or until hot. Stir and then sprinkle with remaining onions. Bake 5 minutes more.