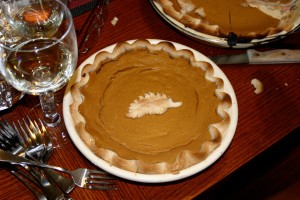 Here is another old recipe that I found in my Mom's recipe box. She cut it out of a paper and glued it on a recipe card. It is the pumpkin pie recipe that she always made and hers were the best I've ever eaten. Your family will love this old fashioned pumpkin pie. Don't wait for Thanksgiving to make it. It is good anytime of the year.
Ingredients
1 cup granulated sugar
1/2 teaspoon salt
1 1/2 teaspoon cinnamon
1/2 teaspoon nutmeg
1/2 teaspoon ginger
1/2 teaspoon allspice
1/2 teaspoon cloves
1 1/2 cups canned pumpkin
1 2/3 cups (large can) undiluted Carnation Evaporated Milk
2 eggs
9-inch single crust unbaked pie shell
Directions
Mix filling ingredients until smooth. Place in unbaked pie shell. Bake @ 425 degrees for 15 minutes. Lower temperature to 350 degrees and continue baking about 35 minutes or until custard is firm.