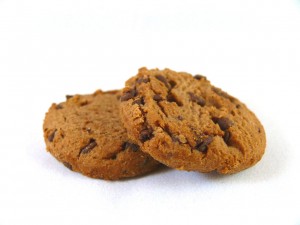 Supercharged cookie recipe.
Ingredients
2 sticks butter
1 cup brown cane sugar firmly packed
1/2 cup white cane sugar
2 eggs
1 teaspoon vanilla
1 & 1/2 cups all-purpose flour
1 teaspoon baking soda
1 teaspoon cinnamon
1/2 teaspoon salt
3 cups Quaker old fashioned oats uncooked
1 cup raisins
6 ounces M&M's milk chocolate
6 ounces M&M's peanut butter
Instructions
Heat oven to 350 degrees F.
Beat together butter and sugars until creamy.
Add eggs and vanilla. Beat well.
Add combined flour, baking soda, cinnamon and salt. Mix well.
Stir in oats, raisins and M&M's. Mix well.
Drop by rounded tablespoon onto ungreased cookie sheet.
Bake 11 minutes or until golden brown.
Cool 2 minutes on cookie sheet then move to wire rack.
Cooking time (duration): 11 Minutes