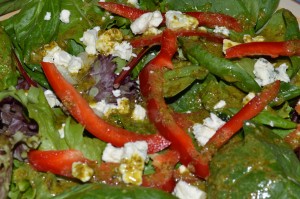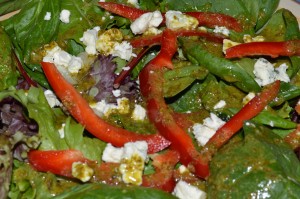 I was in my kitchen enjoying the aroma of the fresh basil plant that a friend had given me. I knew that I had to use it in tonight's meal. I quickly imagined it with greens, and since I love simplicity, I decided on 2 standbys, olive oil and lemon juice. What a wonderful dressing it made. The basil flavor was distinctive, but not overpowering. I simply drizzled it on top of some fresh greens, red peppers and bleu cheese. Perfect!
Ingredients
1/2 cup extra virgin olive oil
1/4 cup fresh lemon juice
1 cup loosely packed basil leaves
2 teaspoon minced garlic
1 teaspoon salt
1 teaspoon pepper
Directions
In a blender or food processor, mix together the basil leaves, garlic, salt and pepper. Add lemon juice, then slowly add the olive oil while blending.