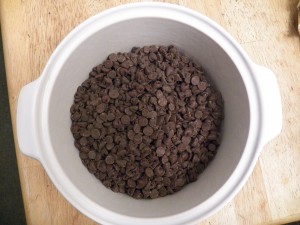 My friend, Gail, recently shared her family's favorite brownie recipe with me. She says that she must make them for all family gatherings. You must try them, they are delicious.
Ingredients
2 cups sugar
1 cup butter or margarine, softened
4 eggs
1 cup flour
6 Tablespoons unsweetened cocoa powder
2 teaspoons vanilla
1/2 teaspoon salt
1 7 – ounce jar marshmallow creme
2 cups semi-sweet chocolate chips
1 cup creamy peanut butter
3 cups crisp rice cereal
Directions
Preheat oven to 350 degrees. Combine sugar and butter in large mixing bowl. Beat at high speed until creamy. Add the eggs beating until blended. Stir in the flour, cocoa powder, vanilla, and salt. Spoon into greased 9×13 inch baking pan. Bake for 25 minutes or until edges pull from the sides of pan. Cool in pan on wire rack. Spread with the marshmallow creme. Combine chocolate morsels and peanut butter in a 2 quart saucepan. Cook over low heat until blended, stirring constantly. Remove from heat, stir in the cereal. Spread over prepared layers. Chill, covered until set. Cut into bars and store covered in the refrigerator.