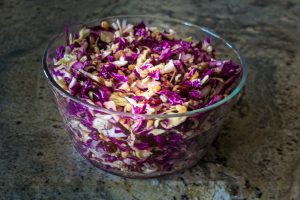 This is a favorite recipe of mine for the holidays. It is colorful and delicious. I first had this at my friend Nancy's house. I could not stop eating it. I requested the recipe from her and love to make it for Christmas because of the colors and because it can easily be made up ahead of time.
Ingredients
1/3 cup cider vinegar
1/3 cup vegetable or olive oil
1/3 cup sugar
1 teaspoon celery seed
2 cups shredded red cabbage
2 cups shredded green cabbage
1 cup walnuts, coarsely chopped
1 cup dried cranberries (Craisins)
1/4 cup red onion, thinly sliced
Directions
Mix vinegar, oil, sugar, and celery seed together for the dressing. In a large bowl, combine the remaining ingredients. Add dressing and toss thoroughly. Cover and refrigerate about 3 hours before serving. This slaw will keep about 5 days, covered and refrigerated.