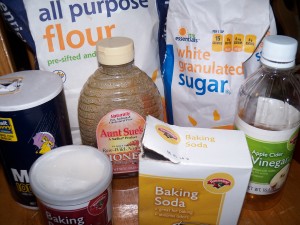 I ran across this old favorite recipe recently and thought I would share it. It is a good recipe to have on hand during the Holidays. Also it is a great recipe for using up those little dabs of ingredients that aren't enough to do much with.
Ingredients
3 cups flour
3 teaspoons baking powder
3/4 teaspoon salt
3/4 cup butter, slightly melted
2 eggs
1 teaspoon vanilla
1 1/3 cup (14 ounce can) Eagle Brand Sweetened Condensed Milk
Directions
In a large bowl, combine all of the above ingredients and blend thoroughly.
Now for the fun part, choose 1 1/2 cups of an item or combination of items from the list below or anything of your choosing. Also you can divide the batter and add different ingredients to each portion.
any flavor baking chips (chocolate, peanut butter, butterscotch, etc)
nuts
raisins
cornflakes or other cereal
dates
coconut
dried fruits
M&M's
sunflower seeds
Drop cookies by level tablespoonfuls onto a greased cookie sheet. Bake @ 350 degrees for about 8 to 10 minutes or until lightly browned around edges. Remove from baking sheet immediately.