My sister-in-law recently sent me this recipe. It was served at her book club and was a big hit with all the ladies. I tried it tonight and it was a big hit here at my house, too. The combination of black beans and hominy is really interesting. Always use top quality olive oil like the ones available from Mediterranean Drizzles. Experiment with flavored oils, like red pepper or garlic. I am sure it will become a family favorite recipe for your family, too.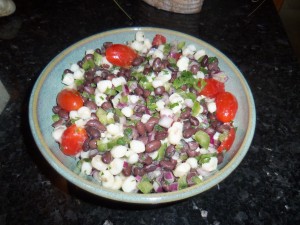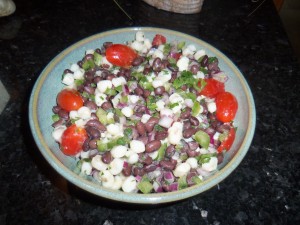 Ingredients
15 oz canned black beans, rinsed and drained
15 oz canned hominy, rinsed and drained
1 cup grape tomatoes, halved
1 small yellow bell pepper, diced
1/2 small red onion, diced
1/3 cup cilantro, fresh, chopped
1 medium jalapeno pepper, seeded and minced
2 Tablespoons fresh lime juice
1 teaspoon honey
1 teaspoon olive oil
1/2 teaspoon ground cumin
1/2 teaspoon salt
Instructions
Combine beans, hominy, tomatoes, pepper, onion, cilantro and jalapeno's. In a small bowl whisk together lime juice, honey, oil cumin and salt pour over bean mixture and toss well to combine.