This is the meatloaf that my Mom always made and I think she probably got it off of the Lipton Onion Soup package. In fact it may still be there. I've tried many different meatloaf recipes, but this one is still my favorite and it is so easy.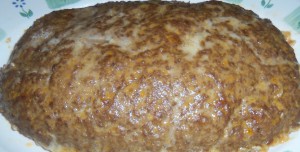 Ingredients
2 lbs ground beef
2 eggs
1 1/2 cups soft bread crumbs
1 envelope onion soup mix
1/3 cup catsup
3/4 cup water
Instructions
Preheat oven to 375 degrees.
In large bowl, combine all ingredients.
Shape into a loaf and place in a baking pan.
Baking time (duration): 45 minutes or until done.