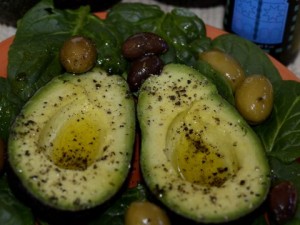 When I was young, my Dad was the only person I knew who ate avocados. He would buy them and eat the whole thing while my Mom would lecture him about how much fat was in them. How the times have changed! Avocados are praised for their health benefits. There are so many ways to make them, but this simple recipe is one of my favorites. As always you must use good quality olive oil. I highly recommend the Tunisian olive oils from Mediterranean Drizzles. Not sure how to tell if avocado is ripe? Check out this Tip.
Ingredients
Directions
Cut avocado in half, lengthwise. Remove seed. Drizzle with olive oil. Sprinkle with salt and pepper.
Serve at room temperature. That's it!
Nani Tip
If you do not have citrus infused olive oil, you can drizzle any good quality EVOO such as Mediterranean Drizzles Organic Olive Oil and then drizzle a bit of lemon juice.