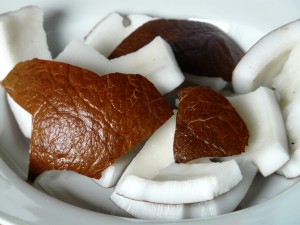 There is nothing like a pan of bars! Here is an old favorite recipe of mine . These are perfect for parties, potlucks, or just 'because'. The crust is crispy and the top is chewy. So many bar recipes have chocolate in them and this is a great non-chocolate recipe. It's one of my oldies but goodies.

Ingredients
6 Tablespoon butter, softened
1/4 cup sugar
1/4 teaspoon salt
1 cup flour
2 eggs
1 teapoon vanilla
1 cup brown sugar
2 Tablespoon flour
1/2 teaspoon salt
1 cup flaked coconut
1/2 cup nuts, chopped
Directions
Cream together the butter, sugar, and salt, and 1 cup flour. Pat into the bottom of a 9×9 inch pan. Bake at 350 degrees for 15 minutes or until lightly browned.
While the first layer is baking, beat eggs slightly, add vanilla and brown sugar, beating just until blended. Add the 2 tablespoons flour and the 1/2 teaspoon salt. Stir in coconut and nuts. Spread over baked layer. Bake about 20 minutes longer. Cool and cut into diamonds.