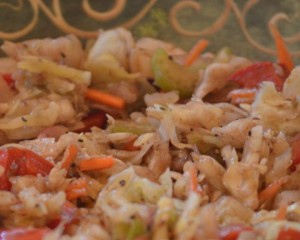 I'm not a big fan of mayonnaise, so this is my favorite recipe for cole slaw. It compliments so many main courses, but doesn't compete with them.
Ingredients
1 pound green cabbage, shredded
1 small onion, finely chopped
2 carrots, peeled and grated
2 teaspoons salt
1/2 cup white wine vinegar
1/2 cup olive oil
2 teaspoons sugar
2 teaspoons dill seeds
Pepper, to taste
Directions
Combine all vegetables and chop together until fine and well mixed. Toss in salt and let stand for 30 minutes. Pour off liquid that accumulates in the bowl. Add the vinegar and toss well, but lightly. Let this stand another 20 minutes, tossing once or twice. Drain off excess vinegar. Add sugar, oil, and pepper and toss lightly, but thoroughly. Chill for several hours or overnight.