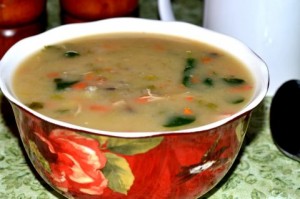 Everyone in Minnesota loves Chicken Wild Rice Soup. It is a staple on many Minnesota restaurant menus and every family has their favorite recipe. I have a recipe on this blog called "World's Best Chicken Wild Rice Soup" and it is! Unfortunately it is loaded with fat and calories. I have found a new recipe that I love almost as much and it is much kinder to the waist line. Try it and I am sure you will agree. It will become your family's second favorite Chicken Wild Rice Soup Recipe.
Ingredients
6 to 8 cups chicken broth, homemade or canned
1/2 pound fresh mushrooms, chopped
1 cup finely chopped celery
1 finely chopped carrots
1/2 cup finely chopped onion
1 teaspoon garlic powder
salt and pepper to taste
1 teaspoon dried thyme
1 can (10-3/4 ounces) condensed cream of mushroom soup, undiluted
3 to 4 cups cooked wild rice
2 cups cubed cooked chicken
2 to 3 cups raw spinach leaves, optional
Directions
Combine the chicken broth with all ingredients except the chicken, wild rice, and spinach. Simmer for 1/2 to 1 hour. Add chicken and wild rice and cook for 5 to 10 more minutes. Then add the spinach leaves and serve.
Nani Tips
I like to use a leftover roasted or broasted chicken carcass to make the broth. I usually add some canned broth, too.