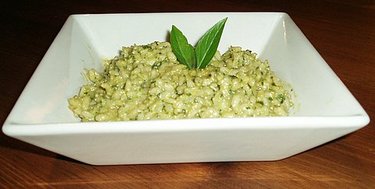 I love risotto and have been making it quite often lately. I am no expert at it, but have been pleased with most of my results. I made pesto risotto last night and declare it a winner and it will definitley become a family favorite recipe. Risotto is labor intensive, so plan your meal accordingly. I served the risotto with plank grilled salmon, letting Mr. Nani tend to the grill while I stirred the risotto!
Ingredients
1 cup Arborino rice
4 cups good quality chicken broth (I use Penzey Spice chicken soup base)
1/2 large onion, chopped
1/2 red pepper, chopped
1 1/2 cups chopped mushrooms
1/3 to 1/2 cup pesto
3/4 cup freshly grated Parmesan cheese
Directions
Put the broth in a saucepan, bringing it to a boil. Keep it simmering on the stove. Using a medium sized skillet, lightly saute the onions, pepper, and mushrooms in olive oil. Add the rice and stir constantly until rice begins to brown. Now add enough of the chicken broth to cover rice and vegetables and continue stirring. As the broth is absorbed, add more, stirring frequently. You may or may not use all of the broth or you may need a bit more. Once the risotto is creamy and al dente, stir in the pesto and parmesan. Remove from heat and serve.
Delicious!