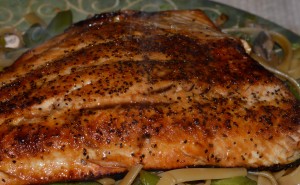 Wood plank cooking has become popular in the last few years. I am a big fan of this method of cooking. It is simple and adds wonderful smoky flavor to your meats. My husband cuts wood planks for me from 1×6 oak boards. They work superb and are very inexpensive. You can use any type of wood; oak, cherry, cedar or alder. Cut the boards to the length needed for your meat or fish.
One of my favorite foods to make this way is salmon, but this recipe works equally well with halibut.
Ingredients
Salmon steaks
Olive oil
Lemon juice
Dill weed
Pepper and salt
Directions
Soak boards in water for a minimum of 2 hours. When ready to cook your salmon, coat the board with a thin layer of olive oil. Lay the salmon steaks on the board and brush with olive oil and lemon juice. Sprinkle with dill weed and salt and pepper. Put boards on charcoal grill at a medium high heat, 400 to 425 degrees. Cook until fish reaches an internal temperature of 145 degrees or until it just starts to flake apart. Be careful not to overcook.
Nani Tips
Never use any wood that has been treated.
Try blue cheese dressing as a condiment with salmon.
Try other herbs in place of the dill weed.