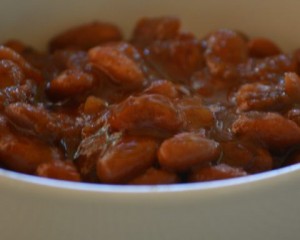 This is a favorite recipe of mine for home made baked beans. These are the real thing, made from scratch. They are surprisingly easy. It just takes a little pre-planning. I like to get them in the crockpot the night before. They can cook all night and day and be ready for an afternoon picnic.
Ingredients
3 cups dry navy beans (or your favorite combination of beans)
9 cups water
1 medium onion, chopped
2 cloves garlic, chopped
1 green pepper, chopped
1 cup brown sugar
1 cup Catsup or BBQ Sauce
1 cup water
2 teaspoons dry mustard
2 Tablespoons dark molasses
1 teaspoon basil
1 teaspoon oregano
Dash of liquid smoke
1 Tablespoon chili powder
Dash crushed red peppers
Directions
Bring the 9 cups of water and the beans to a boil, simmer for 30 minutes. Turn off the heat and let stand for 1 1/2 hours. Drain beans and put in crockpot with the remaining ingredients. Cook on low for 12 to 20 hours. Time will vary with each individual crockpot.
Nani Tip
Use any or all of the seasonings listed. Or add your own favorite combination.