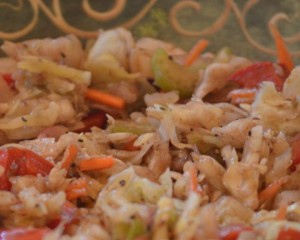 I made a variation of a coleslaw recipe that I got from a favorite website of mine, Smoking-meat.com. It was my son-in-law's birthday and the main dish was smoked pork sandwiches. I was asked to bring the coleslaw and I revised the recipe that I found on the Smoking Meats website. It received 2 thumbs up from the crowd and now has become another of my favorite recipes. Try pulled pork and coleslaw on a bun. Scrumptious!
Ingredients
3/4 cup white vinegar
3/4 cup balsamic vinegar
3/4 cup sugar
2 teaspoons dry mustard powder
1 Tablespoon celery salt
1 teaspoon pepper
1 large head of cabbage, sliced thin
1 green pepper, chopped or julienne
1 red pepper, chopped or julienne
1 red onion, sliced thin
2 carrots, julienne
3/4 cup olive oil
1 teaspoon celery salt
Directions
Place the vinegars, sugar, mustard powder, 1 Tablespoon celery salt, and pepper in a small saucepan and bring to a boil over low hear, simmer for a few minutes. Remove from heat and let cool.
Mix the vegetables and 1 teaspoon celery salt in a large bowl. Add the olive oil and the cooled dressing. Mix well.