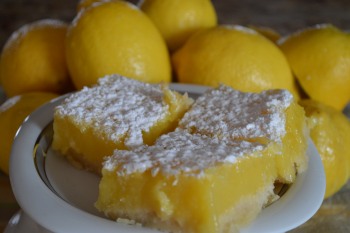 I am sure you have gone to a potluck and been served old fashioned lemon bars. You know the kind with 1/4″ soggy crust and the 3/4″ tasteless custard on top. You must erase that memory from your mind and try these scrumptious lemon bars. These are the real deal and what lemon bars should taste like. The crust is a yummy, rich shortbread. The lemon custard is creamy and tangy. Treat your family to a batch of these today.
Crust Ingredients
2 cups all-purpose flour
¾ cup powdered sugar
½ teaspoon salt
1 cup (2 sticks) butter
Crust Directions
Preheat oven to 350 degrees. Grease a 9-inch square pan with butter. Combine flour, powdered sugar and salt. Add the butter and blend until the mixture is coarse, being careful not to overblend. Press into the pan, pushing the dough up the sides. Bake about 20 minutes or until golden brown. Remove crust from oven and lower oven temperature to 315 degrees.
Prepare Custard while crust is baking.
Custard Ingredients
6 large eggs
2 cups sugar
1/2 cup flour
1¼ cup freshly squeezed lemon juice
3 tablespoons grated lemon zest
Custard Directions
In a large bowl, whisk together the eggs and sugar until smooth. Gently stir in the lemon juice and zest, but avoid excessive whisking Fold in the ½ cup flour.
Pour the egg mixture over the hot crust and bake until the custard is set and no longer jiggles when you move the pan, 35 to 45 minutes. Cool thoroughly before cutting into bars. Dust with powdered sugar and serve.
Nani Tips
Do not use a smaller pan than 9-inch square, it won't fit. If you use a different size, adjust cooking times.
Do not overcook
Do not forget to lower oven temperature