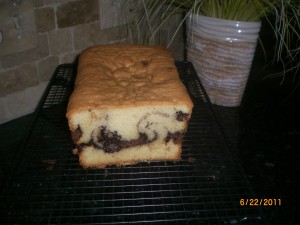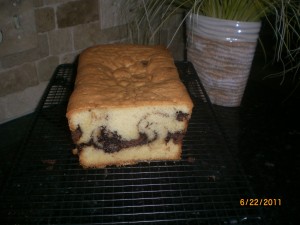 Nutella Pound Cake[/caption]I was walking with a friend one day and she told me that she had made herself a nutella pound cake for her birthday. She was raving about how good it was. I had to have the recipe! I made the cake and it was indeed fabulous! My son-in-law, who loves Nutella, couldn't get enough of it. Beware: This is not a low calorie recipe.
Ingredients
4 large eggs, at room temp, lightly beaten
2 teaspoons vanilla extract
1 1/2 cups all-purpose flour
3/4 teaspoon baking powder
1 cup (2 sticks) unsalted butter, softened
1 1/4 cups sugar
1 13 ounce jar Nutella, warmed in hot water or microwave
Directions
Combine the eggs and vanilla in a small bowl and lightly beat. Combine the flour, baking powder, and salt in a medium bowl. Combine the butter and sugar in large mixing bowl and cream with an electric mixer on medium high until fluffy, about 3 minutes. With the mixer on medium low, pour the egg mixture into the bowl in a slow stream. Turn mixer to low speed and add flour mixture 1/2 cup at a time. After all flour is added, beat on medium speed for 30 seconds. Pour 1/3 of the batter into a greased and floured 9×5 inch loaf pan. Spread the batter and smooth with a spatula. Spread 1/2 of the Nutella over the batter and smooth. Gently smooth 1/3 of the batter over Nutella and then smooth remaining Nutella over that. Spread the remaining batter over Nutella and run a butter knife through the batter to create marbling. Bake the cake at 325 degrees for 1 hour and 15 minutes or until toothpick inserted in middle comes out clean. Let cool for 15 minutes, then invert on wire rack and let cool completely before slicing.