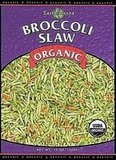 Here is a great favorite recipe for an interestingly different slaw. Bring this to your next potluck or family get together. It's a big recipe, but you won't have any leftovers.
Ingredients
1 package chicken ramen noodles (3 ounces)
1 package broccoli slaw mix (16 ounces)
2 cups sliced green onions
1 1/2 cups broccoli florets
1 can ripe olives, drained and halved (6 ounces)
1 cup sunflower kernels, toasted
1/2 cup slivered almonds, toasted
1/2 cup sugar
1/2 cup balsamic vinegar
1/2 cup olive oil
Directions
Set aside the noodle seasoning packet; crush the noodles and place in a large bowl. Add the slaw mix, onion, broccoli, olives, sunflower kernels and almonds. In a jar, combine the sugar, vinegar, oil and contents of the seasoning packet. Shake well. Drizzle over salad and toss to coat. Serve immediately.