Years ago I belonged to this little country Norwegian Lutheran Church. Every fall the ladies put on a Norwegian dinner. It consisted of meatballs, mashed potatoes, cole slaw, rutabagas, and lutefisk. In other words a very White Norwegian Dinner. The highlight was the assortment of homemade Norwegian and Swedish sweets. They were all homemade by a sweet little group of ladies, most of who are now deceased. At one point they published a church cookbook and shared their old family Scandinavian cookie recipes. I am sharing them with you today. I am publishing them exactly as they printed them. They are authentic and have been passed down for many generation. ENJOY!
4 hard boiled egg yolks
4 raw eggs
1 cup sugar
1 pound butter
5 cups flour
loaf sugar (I think this would be a sugar cube)
egg white
 Directions
Mix egg yolks and raw eggs until smooth. Add sugar. Add butter and flour alternately and knead. Take pieces of dough and roll out to size of a pencil and shape into a wreath. Dip each one in egg white to which crushed loaf sugar has been added. Bake @ 375 degrees until light brown.

Ingredients
½ cup butter
½ cup Crisco
1 cup sugar
1 egg
½ teaspoon vanilla
½ teaspoon lemon extract
2 cups flour
½ teaspoon soda
½ teaspoon cream of tartar
1/8 teaspoon salt 
Directions
Cream butter, shortening, sugar, eggs and flavorings. Add dry ingredients. Mix well and chill. Shape into 1 inch balls, roll in sugar, flatten with glass. Bake 10 minutes @ 350 degrees.

Ingredients
1 cup butter
½ cup powdered sugar
2 cups flour
2 teaspoons vanilla 
Directions
Combine all ingredients and make into balls the size of a walnut and press down with a fork. Bake in moderate oven @ 350 degrees, until the edges become a light brown.
 FATTIGMUND

Ingredients
6 egg yolks
1 Tablespoon melted butter
½ teaspoon salt
6 Tablespoons sweet cream
4 Tablespoons sugar
½ teaspoon cardamom
1 ½ – 2 cups flour 
Directions
Beat yolks well, add sugar and mix well. Add rest of the ingredients. Roll thin and cut in diamond shapes. Fry @ 370 degrees until golden brown. Peanut oil best for frying. Drain on paper towels and dust with powdered sugar. 
KRUMKAKE 

Ingredients
1 cup sugar
½ cup butter
2 eggs
1 cup milk
1 ½ cup flour 
Directions
Cream butter and sugar. Add beaten eggs, milk, and flour. Bake in Krumkake iron, roll on wooden spoon.
NOTE: To make Cardamom Krumkake, add 1 teaspoon of freshly ground cardamom.
 ROSETTES 

Ingredients
1 egg
1 Tablespoon sugar
½ cup flour
½ cup cornstarch
1 cup milk
½ teaspoon vanilla
1/8 teaspoon salt 
Directions
Beat egg, add sugar and vanilla. Mix flour, cornstarch and salt with milk, making sure there are no lumps. Mix milk mixture with egg mixture. Bake on form in hot cooking oil.
SPRITZ COOKIES 

Ingredients
1 cup butter
2/3 cup white sugar
3 egg yolks
1 teaspoon almond extract
2 ½ cups flour
¼ teaspoon salt
Directions
Mix in order given. Put through cookie press. Bake @ 350 degrees for 8 to 10 minutes. 
SANDBAKKELS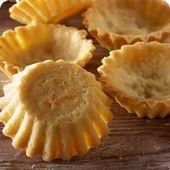 Ingredients
½ cup butter
½ cup margarine of Fluffo
½ cup white sugar
½ cup brown sugar (or use all white sugar)
1 egg
3 cups flour
 Directions
Pat into form and bake at 375 degrees. (may not need full 3 cups flour) 
SWEDISH SMORBAKELS 

Ingredients
1 cup sugar
2 cups butter
1 whole egg
1 egg yolk
½ teaspoon almond extract
3-4 cup flour 
Directions
Mix in order. Add flour to handle. Press into sandbakel tins. Bake @ 400 degrees oven until lightly browned. Cool slightly, squeeze tins to loosen.