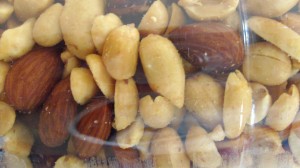 Nothing beats the sweet and salty combination. These bars will certainly become a favorite recipe. They are similar to the sweet and salty bars that I buy for hiking.
Ingredients
1 1/2 cups flour
3/4 cup brown sugar
1/2 teaspoon salt
1/2 cup butter
1 12 ounce can mixed salted nuts or peanuts
1 12 ounce package butterscotch chips
1/2 cup light corn syrup
2 Tablespoons butter
1 teaspoon vanilla
Directions
Mix the flour, brown sugar, salt, and 1/2 cup butter wth a pastry blender. Pat into a 9×13 inch buttered pan.
Bake 10 minutes @ 350 degrees. While this is baking, melt the butterscotch chips, corn syrup, 2 Tablespoons butter and vanilla over low heat, stirring constantly. Remove baked crust from oven and sprinkle nuts over that layer. Spread the butterscotch topping over the nuts. Bake for 10 minutes more @ 350 degrees. Cut into squares while still warm.