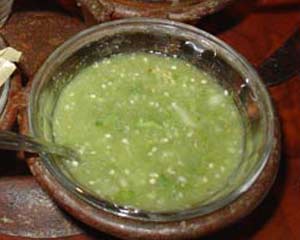 My daughter loves salsa and thinks that she has mastered the perfect salsa. She got the recipe from her Mexican friend, Monica and has been fine tuning it to her taste. Make it to go with those chips on Super Bowl Sunday. I know you will love it.
Ingredients
20 or so tomatillos (the smaller the sweeter)
2 to 3 jalapenos chiles or serrano peppers
5 cloves fresh garlic
1 sweet white onion
1/2 bunch cilantro
2 tbsp caldo de pollo (chicken bouillon)
large pinch of Mexican oregano
Directions
Put tomatillos, chiles, and garlic into boiling water, boil for 5 minutes until soft. Then put all ingredients into a blender and blend until smooth. Refrigerate until flavors meld together. I like to refrigerate for at least 12 hours before serving.
Nani Tip
Mexican oregano and caldo de pollo can be found in the Mexican section of some grocery stores or at a Mexican market.