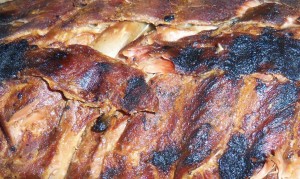 This is a great favorite recipe if you are a barbecued rib lover and love to grill. The recipe came from a Weber Grill Cookbook. It is great for making smoked ribs in a few hours. They do require frequent basting, thus can be a bit time consuming, certainly worth all the extra effort. Try them and you will agree that they are some of the best ribs you'll ever eat.
Ingredients
2 cups apple cider
1/4 cup minced shallots or green onions
1 Tablespoon minced jalapeno peppers, seeds removed
1/4 cup ketchup
2 Tablespoons white wine vinegar
2 Tablespoons tomato paste
1 Tablespoon dark brown sugar
1/4 teaspoon kosher salt
1/4 teaspoon black pepper
2 to 3 slabs baby back pork ribs, about 4 pounds
Kosher salt
Freshly ground black pepper
Directions
To make the mop, combine the apple cider, shallots and jalapeno a small saucepan. Bring to a boil and cook over medium-high heat until about 1 cup of liquid remains. Then add ketchup, vinegar, tomato paste, brown sugar, salt and pepper. Again bring to a boil and then remove from heat. At this point you can refrigerate mop until ready to use.
Let ribs stand at room temperature for 20 to 30 minutes. Season with salt and pepper. Heat grill to medium indirect heat (on my Weber gas grill, I turn off middle burner and only burn the 2 side burners). Place ribs on grill, rib side down. Baste ribs frequently with the mop throughout the grilling time. It should take 1 1/2 to 2 hours. They are done when the meat is very tender and pulls back from the ends of the bones. Stop basting during the last 10 minutes of cooking.