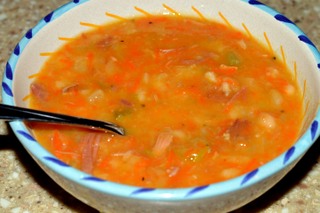 This is an old family recipe that must be close to 75 years old. My Grandma made it and my Mom made it and she is now 87. I've tried other recipes, but always come back to this one. I think the shredded carrots give it the perfect color, great consistency, and perfect flavor. My Grandma gave me the recipe with very loose instructions. She just said to start it @ 1:00 to have dinner @ 5:00!
1 piece of pork (I prefer a leftover ham bone)
1 1/2 cups navy bean, sometimes I add part pinto beans
1 onion, chopped
3 medium potatoes, diced
4 pieces celery, diced
4 or 5 grated carrots, grated
salt and pepper to taste
garlic powder or salt (I like lots of garlic)
Cook the beans in about 2 to 3 quarts of water for about 1 hour.
Add the pork and cook for another hour.
Add potatoes, onion, and celery and cook for a hour.
Add shredded carrots and cook for another hour.