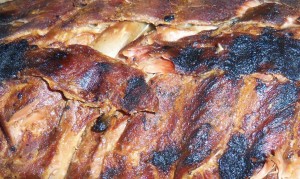 There is nothing like BBQ ribs. I love to smoke ribs on the smoker or on the grill, but sometimes it's nice to do them in the oven. Here is a favorite recipe of mine for making BBQ ribs in the oven. They are fall apart tender and delicious. Everyone loves these.
Ingredients
3 to 4 pounds country style ribs
1 to 2 teaspoons garlic powder
1 lemon, thinly sliced
1 bottle of your favorite BBQ sauce
Directions
Cover the bottom of a 9X13 inch pan with about 1/16th inch of water. Place the ribs in the pan and sprinkle with garlic powder and layer with lemon slices. Cover and seal tightly with foil. Cook for 2 hours @ 300 degrees. Drain the water, cover with BBQ sauce, cover with foil and cook for 40 minutes more @ 275 degrees.
Nani Tips
Try Famous Dave's Rich and Sassy BBQ sauce (my personal favorite).
No BBQ sauce on hand?, make Jim's favorite BBQ sauce (recipe on left, under sauces).
Never pre-boil ribs.